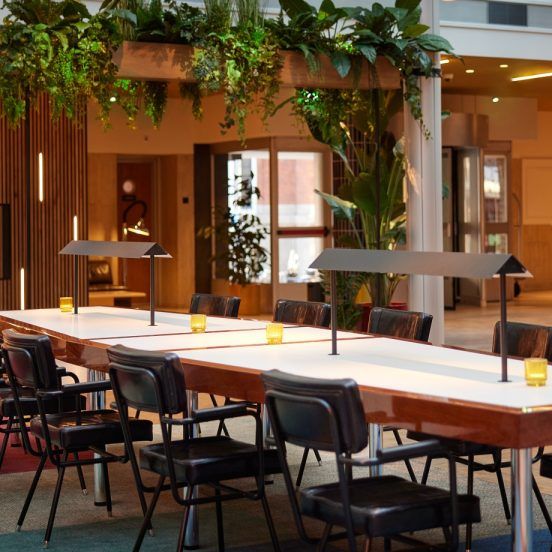 Continuing Hilton's international expansion, Motto by Hilton Rotterdam Blaak opens in modernist former bank located in the Netherland's trendy seaport city.
Hilton celebrates the opening of Motto by Hilton Rotterdam Blaak together with its partner Borealis Hotel Group, marking the lifestyle hotel brand's debut in Europe. The 108-room property is located in the city's iconic old bank building and has undergone extensive refurbishment to create a welcoming and modern environment inspired by the stunning architecture of the Netherlands' trendiest city.
Simon Vincent, executive vice president and president, EMEA, Hilton, said: "We are thrilled to introduce this rapidly expanding brand to Europe. Building on Hilton's legacy in the Netherlands, Motto by Hilton Rotterdam Blaak brings a new and exciting aspect of Hilton's award-winning hospitality to this wonderful city, offering sustainable dining and a central location that is perfect for exploring everything Rotterdam has to offer."
Theodora De Souza, brand leader, Motto by Hilton, said: "With flexibility, locally influenced design and authentic local experiences at the forefront of each Motto by Hilton hotel, the brand has proved a hit with travellers since its launch in 2018. We are thrilled to debut the brand in Europe with the opening of Motto by Hilton Rotterdam Blaak and look forward to welcoming guests – especially those in larger travel groups thanks to our Confirmed Connecting Room capabilities – to enjoy a fully customizable stay in this exciting city."
Nicolette Korstanje, part of the Borealis Hotel Group and general manager, Motto by Hilton Rotterdam Blaak, said: "Further building on Borealis and Hilton's long-lasting partnership, it is incredibly exciting to open the first Motto by Hilton hotel across Europe, Middle East and Africa right here in Rotterdam. The team and I look forward to creating memorable experiences for our guests as they explore everything this vibrant city has to offer."
Local and flexible design
Motto by Hilton Rotterdam Blaak offers travel-sized guest rooms with modern design. Guest rooms offer flexible sleeping setups to simply coordinate travel for larger family and friend groups including standard beds, bunk beds and flex beds that stow into the wall, providing a fully customized stay. With Motto by Hilton's flexible room booking system, guests are able to take advantage of Confirmed Connecting Rooms by booking up to nine connecting rooms at a time. With some of the most linking rooms in Hilton's portfolio, the flexible set up allows individual corporate and lifestyle travellers to upgrade their bedroom into a larger living space or allow groups and larger families to stay close to each other during their travels.
Focused on customisable spaces that can adapt to any group size, Motto by Hilton Rotterdam boasts up to fourteen linking rooms, allowing individual travellers to upgrade their bedroom into a larger living space or helping groups and large families stay close to each other on their travels.
Each room is also designed to maximize space and is equipped with everything guests need for an enjoyable and restful night's sleep, including top-notch mattresses, conveniently located power outlets and streaming services on 55-inch TVs.
To ensure guests feel the legacy of the iconic bank building, the hotel's design features original staircases and wooden panelling. Red, yellow and blue themes highlight the influence of iconic Modernist art, which has long been synonymous with the city. Motto Commons, the hotel's central hub, provides a place for guests and locals alike to meet, work or socialize, cementing the hotels' position as a community centre-point. Light bites, drinks and freshly brewed teas and coffees are available at the bar or in the Commons, while Grab & Go options are available for explorers on the move.
Fresh fish daily
Following great success at their Amsterdam restaurant, fish specialists Pesca have teamed up with Borealis Hotel Group for their sophomore location at Motto by Hilton Rotterdam Blaak. With a continuously evolving menu, minimal waste, and the best selection of fresh fish available each day, Pesca constantly invents dishes to give guests a unique experience each time they dine at the restaurant. With dynamic pricing that adapts according to demand throughout the day, delicious fresh fish dishes can be ordered at a variety of price points.
Central location ideal for urban explorers
Based in Rotterdam, one of the largest and most iconic cities in The Netherlands, Motto by Hilton Rotterdam Blaak is within walking distance of Cube Houses, the vibrant shopping and eating destination Markthal and the Witte de With, home to Rotterdam's thriving art scene and nightlife. Less than a five-minutes' away walk is Blaak underground station, giving guests easy access to all of Rotterdam's many attractions. Local Motto Hosts are also on hand to provide recommendations for guests looking to explore everything the city has to offer.